DDR KZ / ICC Kart Engines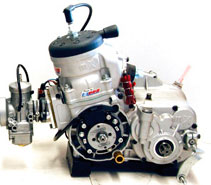 DDR prepared KZ / Inter Continental C Kart engines have an extensive history of winning SKUSA and Stars of Karting races, championships, and setting major track records that still stand to this day! Over the years we have had the privilege to work with some of the best KZ drivers in the world.
We are one of the few remaining builders in North America with long term experience in development, preparation and support of these extremely high output European Kart racing power plants at National level venues. Strict standards regarding modifications and build quality are critical to extract maximum power and reliability from these specialty power plants. Our extensive experience with handling Dellorto carburation at various venues around the country give us the edge in setting up and extracting the maximum performance and driveability with these engines in both Sprint and Roadrace applications.
DDR has experience with all major KZ engines including TM, Vortex / ROK Shifter, Maxter, and Pavesi. We can provide services for these engines ranging from development, to repair and re-building, to carburation and tuning. Give us a call, we'd be glad to discuss your requirements.
Contact us for info or a quote