Services
We offer blueprinting and rebuilding services so you can "Get the Power to Win". We specialize in MOTO, KZ / ICC Shifter engines, IAME and Rok TaG engines, and TZ and RS GP Motorcycle Roadracing engines.
We can do custom development work on two-stroke, four-stroke and specialized engines. We have extensive experience in two-stroke cylinder development.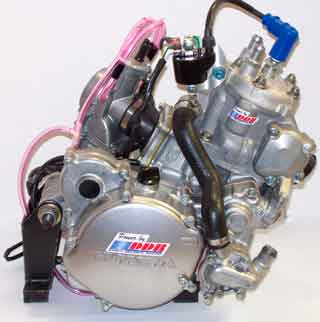 If you are located in Southern California, please call in advance if you want to bring your engine, or visit the shop. If you ship your motor, please follow these steps:
Close and seal all ports (inlet, exhaust, and water). Duct tape is recommended.
Clean the motor of heavy grease.
Include any other related parts (carburetor or clutch) that you want to have inspected or serviced.
Secure in an adequate box with padding (a UPS store should be able to assist).
Complete the shipping form. Include the top portion in the box, and attach (and protect) the shipping label to the outside with clear packing tape.
We recommend shipping Fed Ex or UPS and insuring the package for replacement cost.

Ship your engine to us for a top end or complete rebuild. Print and complete our FORM, box up the motor, and ship it to us.You can fill out the form on-line, and then print it, or fill it in with a pen after you print it.
Contact us for info or a quote