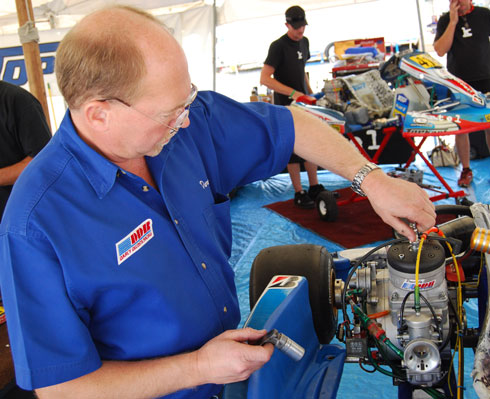 History
Darcy DeCoste has a long history of involvement with two-stroke engines, first motorcycle dirt and road racing. As a rider and racer Darcy competed at the club level, but later progressed in the 90's to working with several riders on the AMA Pro motorcycle racing circuit as a tuner and engine builder. Years of development with Honda RS125/250, Yamaha TZ125/250 and Aprilia 250 road racing engines and Honda, Yamaha, Suzuki, and Kawasaki motocross engines have provided a deep understanding of two-stroke racing engines.
A background in Mechanical Engineering combined with managing involvement in the family's previous machining and manufacturing business developed extensive experience in mechanical design, metalworking and machining which has proven invaluable when developing and building high output two-stroke engines.
Involvement with karting began when a friend asked Darcy to help him with his son's shifter kart engine in 2000, as he was aware of his experience with motorcycle racing engines. This project proved to be enormously successful winning several races! Word began to spread about the success and in 2001 Joe Friedricks asked Darcy to commit to an engine development program for JAF Racing as they pursued a SKUSA SuperPro title with Phil Carlson as the primary driver. Darcy was impressed with the "new" 2001 Honda CR125 and it's cylinder design similarity to the RS125 roadrace engine and selected it as the engine of choice. At that time the 1999 model was the most popular with other builders.
The hard work began to pay off with the start of the 2002 SKUSA ProMoto Tour. Phil Carlson and JAF Racing with DDR 2001 power won the 2002 SuperPro National Championship – the most prestigious title in U.S. shifter kart racing.
Darcy DeCoste Racing continues to supply innovative kart racing engines, and the Power to Win!